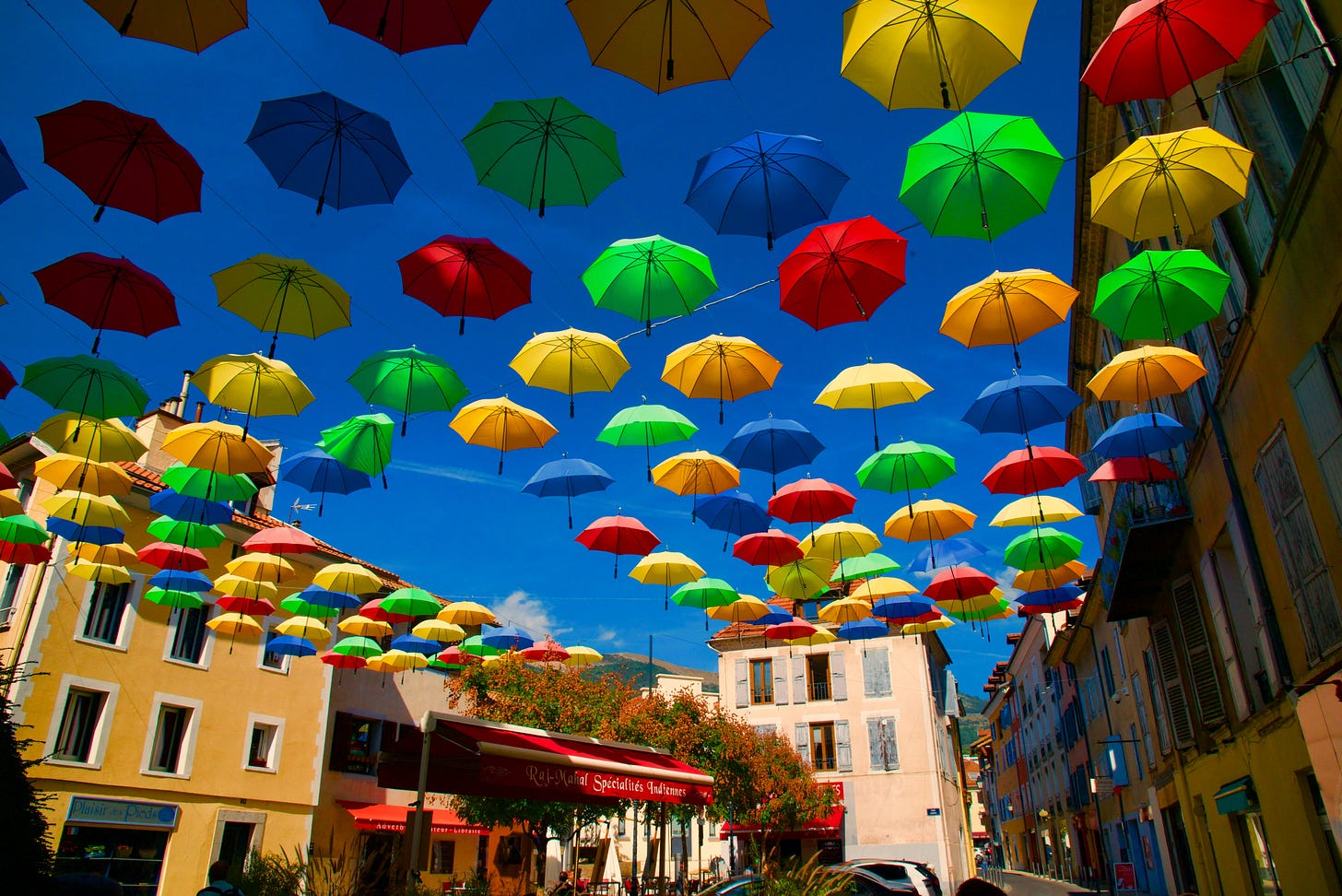 Part of being human is exercising our intelligence to understand things, and it's no surprise that lately, we're processing a lot.
Just one place this applies is in the business activity called speaking.

Being an in-person speaker (keynoter, workshop leader, etc.) really should come with hazard pay these days, given the fact that so very little in-person speaking is actually happening. This means revenue has dried up and nobody is 'pivoting' at all - that's way too polite a word. No, people whose businesses relied solely on speaking in person? Some of these good folk are friends, and they're moving swiftly to bail out water and head for shore.
This sea change in the in-person speaking arena is of interest to all of us, because it signals a turning point in the virtual speaking sphere.

I include in this category: online teaching, telesummit hosting, livestreaming, etc. and you'll see why in a moment. If you're someone who delivers video content with teleconferences, Zoom lines, webinars, or social media… the fact that the demand for keynote and breakout speaking has dropped as hard as it has, and likely will stay that way for as long as another 18 months-ish?
This will have (is having) an impact on you.
Here are just a few data points based on my own calendar, and those of my speaking colleagues and clients:
many in-person speakers are making themselves available as virtual speakers

expectations for the quality of virtual speaker is going up, up, up!

the number of choices for audiences interested in online content has also increased, almost certainly you've noticed this

people who are hiring virtual speakers have a LOT of choices…
Plus - new social phenomena are also on the rise - Zoom fatigue/eye strain is just one. All of this is conspiring to make humans adjust how they value online content. Andrea Bocelli in live concert? Check. Barack Obama for a real-time congregation speech? Check! Within this embarrassment of riches, the question to ask now is where is your - our - place in all of this? How does the 'average' coach, consultant, trainer, speaker, author find their way?
Making sense of these changes means analyzing both the short-term and the long-term.
In the short term, there's a lot of opportunity. Getting in on the action with video-based offerings is smart. You'll want to try to do that for lead generation possibilities as well as to drive revenue. Now's a good time to get your topic and content ducks in a row, invest in equipment, rehearse differently but rehearse, and, get used to tidying your office (at least the part that will be on screen.)
In the longer term, it's not too early to call: we're experiencing the development of a new occupational category. We're not going to call this "an influx of in-person speakers into virtual speaking" for long - it's too long and unwieldy, for starters! Those of you who have trend-watched with me over the last 20 years know a sure sign: when people providing infrastructure acknowledge the change. In this case, a speaker bureau is offering virtual speaking certificates.
When processing trends, always look at what's emerging in the gap. It's usually a unique combination of some sort: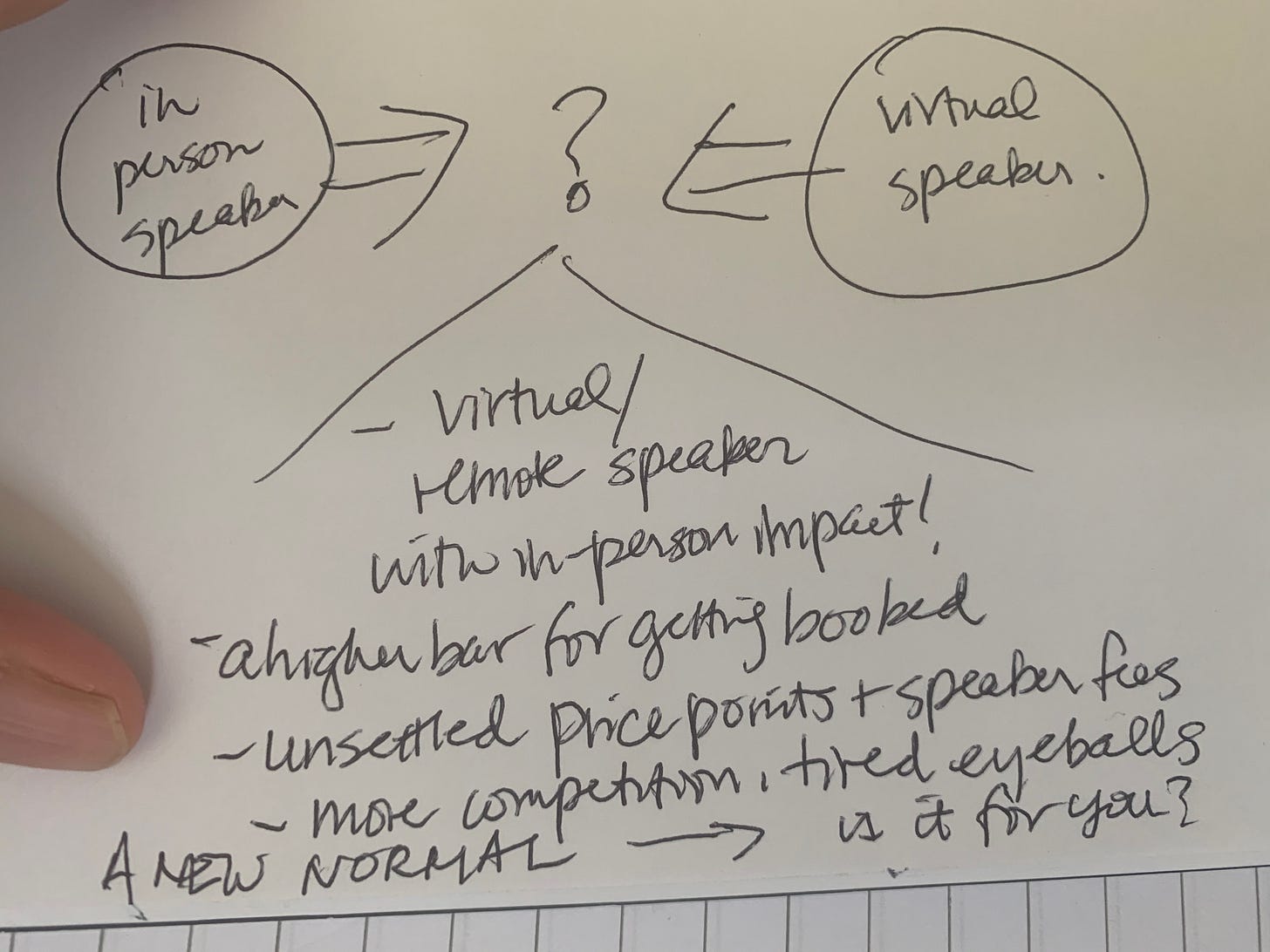 In the gap: (1) virtual/remote speakers with in-person impact! (2) a higher bar for getting booked (3) unsettled speaker fees (4) more competition, tired eyeballs (5) a NEW NORMAL - is it for you?
Whatever it winds up being called, this new animal isn't temporary.
With some of the world's most prominent conferences changing their in-person dates for not just the rest of 2020, but 2021 as well, it's time to look at how to adjust our individual expectations around speaking. Sooner is better than later, right?
Right.
If this conversation impacts you, I invite you to join me for a micro-class I'm calling the "5Ws of Virtual Speaking." In the one-call format, we'll cover:
The different kinds of virtual speaking opportunities and why that matters.

The benefits of virtual gigs and how to make the most out of them to bring vitality to your business.

High ROI opportunities unique to virtual speaking including what you can expect for conversion rates.

How to get gigs - this is a simple but comprehensive set of actions, which will be useful for planning, but obviously you must be prepared to implement.

Embracing your best content/ideas so as to be relevant today, and bringing out the performer in you so you stand out and get referred as a virtual speaker.
We'll also touch a little more on the impact of technology on our constituents - what we should be aware of, how to present well given the downsides of the tech, and how this entire scenario can make us better educators and messengers. (We will not be going over detailed tech or equipment questions, though I can make some recommendations.)

The call was led by me, live via Zoom, and the recording and slides are now available, as follows:

There is a two hour recording (90 minute teaching and interaction, then approx 30 minutes Q&A.) Detailed notes in the PowerPoint slide deck are included.

Cost: USD $35.
Note: This call is suitable for those newer to the speaking realm, or who have not been strategic about cultivating excellence as a virtual speaker. More advanced speakers will find value in the reframe of where the industry is heading, and the bigger picture opportunities to seize, rather than in the nuts and bolts.
A final word…

I have a vivid memory of stage fright in the year 2001 that has never left me. Painfully shy and a stereotypically quiet Asian woman, I've studied, rehearsed, prepared, and actively worked on my ability to connect with an audience - virtually and in-person - for more than 10 years, and along with books, I now count speaking as one of my most magical, enjoyable things.

Especially if you're like I was, and want to seize the moment to commit to excellence as a virtual speaker, do partake in this rare micro-class format. While we won't cover absolutely everything to know in one short class, I promise you'll get excellent value, both in the content, as well as in the role modelling/demonstration and Q&A. No juggling though, I draw the line at at actual juggling.
"Andrea is the type of coach I aspire to be. Her teleseminars are packed with useful information, key contacts with persons of influence, and inspiration that take you to the next level. Andrea conveys warmth with business savvy, insight with vision for the future." Dr. Lisa Van Allen, Executive Coach and Spiritual Director to Mission-Driven Business Leaders
P.S. If the emergence of this new middle ground between in-person speaking and virtual speaking isn't your jam, I offer the questions instead:
"What will be your main source of business development in the next 18 months?"
Lots is changing and no one really knows how things will land. What I hope is that you're attending to you and your family's energetic reserves, listening closely, making sensible backup plans, and call on all your best sources of information and insight. There are opportunities, they just need some risk analysis.

Got questions about the microclass, or potentially working together in another way? Hint: I strongly recommend getting help in shorter engagements when so much is uncertain - whether that's with me, or someone else. Also, be sure to ask the people you want to hire where they stand about the future. You want advisors who aren't burying their head in the sand, being Pollyanna, or all doom and gloom. In other words, do a check on their values.
Simply hit reply if something quick but strategic feels warranted, and you think we might be aligned. Meanwhile, if you haven't yet read my post 'On Making Big Mistakes, and Moving Forward" it's received the largest number of shares and comments since changing formats. New articles at We Can Stop Being Abusive are also now up.

As always, I hope something here has been interesting, useful or useable, as you sort out how to be human in a way that works for you.


Photo credit: Marvin Kuhn on Unsplash