I hope this finds you well in the world where you are, however you're faring in the great reckoning that is 2020. For me, it was a wild summer weekend, in which Mike and I saw not just:
our first pea harvest, but one of my favourites…

a wee tree frog clinging to the side of a rose, AND…

a real-deal Barred Owl blessed us, first in the birch tree out front, and then, on a cedar, visible from our living room. This led to eating dinner while sitting on the floor so we could commune with it, as you do.

It was a welcome contrast to last week, when I found myself spending faaar too much time on Facebook, discussing plans to get the heck off of Facebook. (Note the irony.) Suitably refreshed, today I'd like to share the article that prompted this tsunami-like activity, and wind up with an invitation to join me in one of my busiest weeks on record.
In it, some really rather terrible things were revealed about what Facebook has allowed to happen, such as extremist advertising, and hate content propelled by their algorithm. Last week, the Anti-Defamation League kicked off its "Stop Hate for Profit" campaign with Coca-Cola, Unilever and a slew of other corporations agreeing to boycott Facebook advertising for the month of July.
As unique a year as 2020 has been, I would never have predicted Coca-Cola winning in a contest for corporate ethics against Facebook. But that's what's happened. As a result, I posted the following, and have put together an 'Alternatives to Facebook' Virtual Town Hall gathering this week.
For me, enough is enough. As for you? Well, you get to be the judge:
"Just because a person like Mark Zuckerburg has a lot of money does not make them a leader.

They have a big house or car, one of the largest business enterprises in the world? May not mean a thing about their values, how they value other people, or their worth as an influencer. The thing they built may be useful and fun, many things can be true at once after all. But let's decolonize our eyes. Unhypnotize our hearts. See things more clearly as only each of us can do when we wake from a slumber.

Make no mistake, what this news piece (Facebook Market Value Plummets $56 Billion as Advertisers Flee Platform) covers is a CEO's reaction to profit loss. The actions being taken now are the right thing to do, but they're not indicators of virtue. Knowing the right thing to do isn't difficult. We know the right thing, the moral thing, when we see it.

So even though it's good that these changes are being made now, so quickly! And immediately! With such responsiveness, do not let this make us think that this company, Facebook, is now in the good category. No cookies, no effing hero status. In the face of violence, hate and the loss of freedom and life, they waited to be schooled by the market to do this.

Changing behaviour is good, but until I see a new consistent pattern of proactively doing the right thing, I will remain attentive to the shadow. And commit to seeing it for what it is.

And. Here I am with my vapid righteousness on the very platform I'm seething about. (She rereads her sentences and measures her own behaviour by them.) I'm not going to justify what I've done or not done about still being on FB, but I will say in no uncertain terms: the fact that I'm still operating parts of my business and spending part of my life here makes me all kinds of disgusted and not okay with myself.

Of course, there are so many reasons to feel mixed about this. I've learned so much, loved people, felt creative, free and alive through my projects using this platform. Like a relationship with beauty in it that also has abuse in it... it's not an easy clear cut thing. It can be genuinely difficult to "just leave" relationships for this reason. (Domestic Violence victim belittlers take note.)

So yes. Even though it seems like it should be easy to vote with my feet, I'm still here. And...

If I'm committed to anti-supremacy, anti-hate, to standing against abuses of power...then I will redouble and accelerate my steps away.

I would love to know where you are at with this. If we all were to boycott FB, where would you want to go to be connected?

I cherish our interactions, how can we create something else? What concrete possibilities do you see? Are you meh about this (which I get), have you reached peak anti FB yet...?

Ahhh... I'm going to go stomp around in the woods for awhile about this."
Stomp around in the woods is exactly what I did. From there, I put the below together for Tuesday, and… you are invited to the conversation.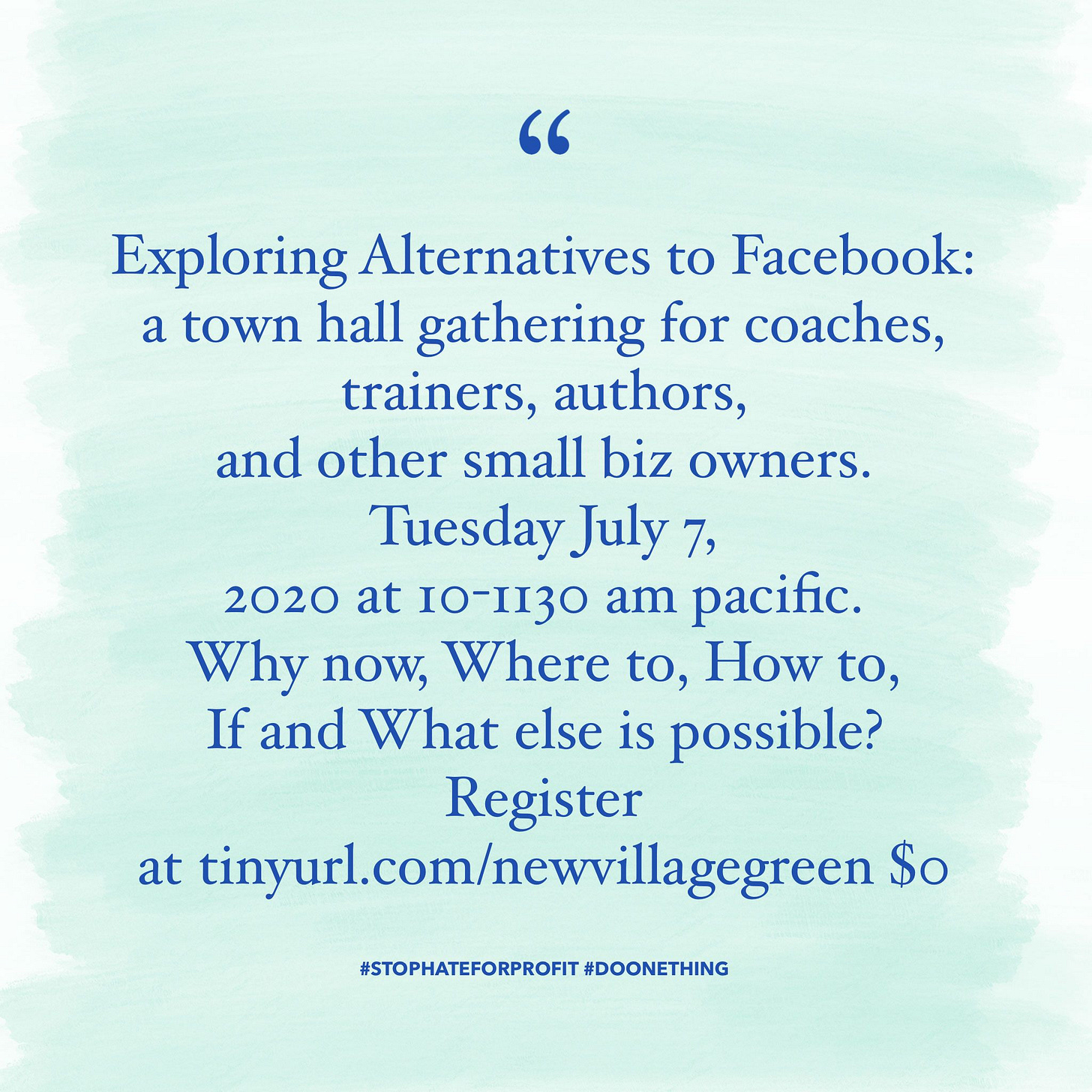 This call will be held town hall style this Tuesday July 7, from 10-1130am pacific. Town Hall style simply means there'll be less pontificating from me, and more encouragement for you to share your thoughts, so you can make some decisions. Will you join the Stop Hate for Profit campaign? No judgement if you do or don't, but I'll be there to support thinking it through. I hope to also have a spreadsheet of options also ready by then.

To register for this call, go here. (Yes, I will email a recording after.)
It's actually a really good thing about the owl-watching, frog-appreciating, pea-eating weekend, because…
I'm blessed with the joy of teaching not 1, not 2, but 4 live classes this week.
This is as busy a week as I've had in several years and the momentum feels wonderful.
(1) The first class is the Alternatives to Facebook class noted above.
It's $0 and open for registration to anyone.
(2) The second and third classes are Stone Mapping Classes which are part of a paid course I'm leading (and swooning over) right now.
If you're interested in the next cycle of this 30-day hands on class, let your interest be known here. I'm genuinely humbled that the first section of class sold out in 5 days! I'd love to continue the momentum with you.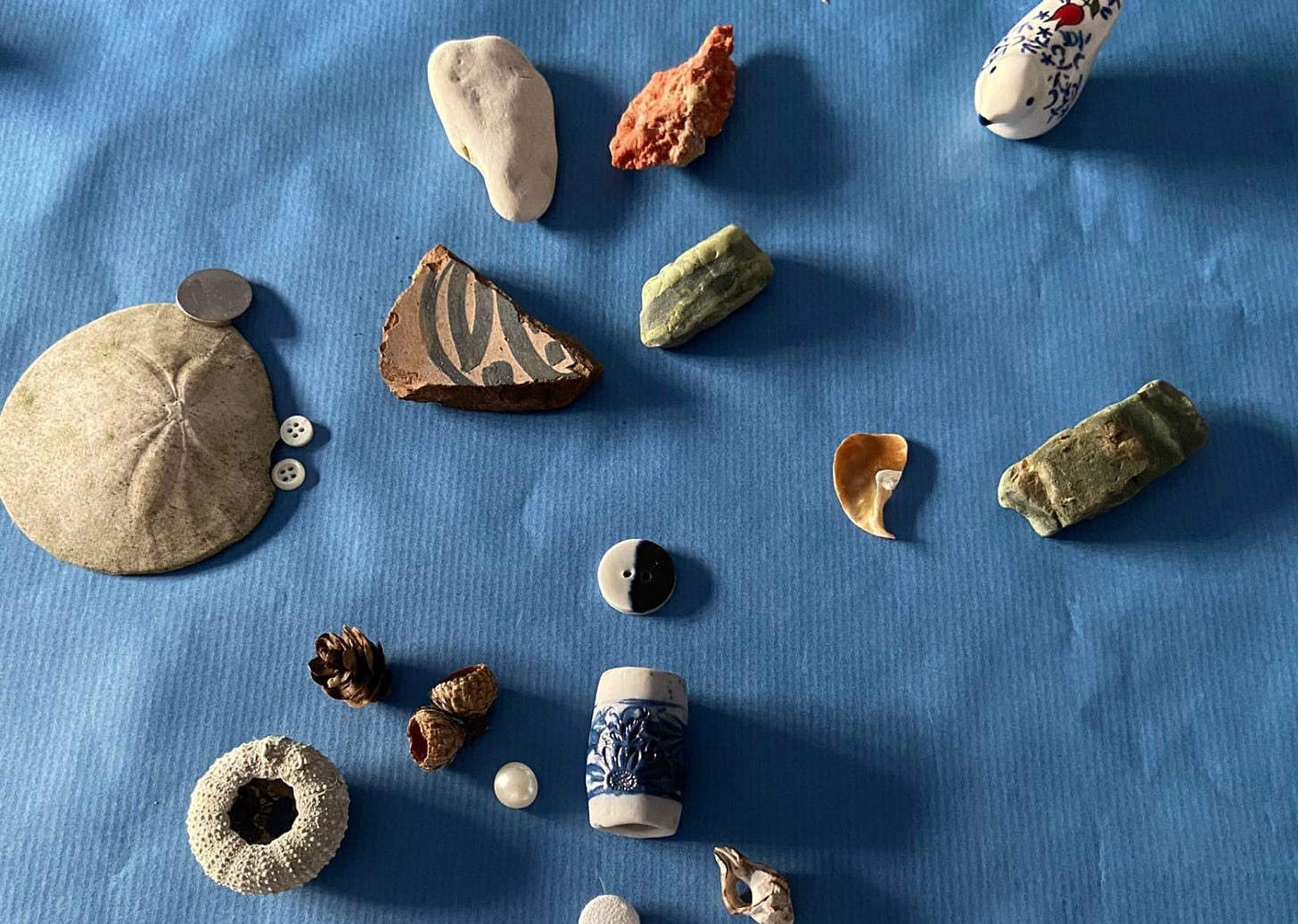 (3) And finally, you're invited to the fourth live class for the week, which represents the end of an era.
For almost 2 years, I've held a free Community Coaching Call that welcomes anyone (you?) to bring a challenging question forward to receive laser coaching. Life, work, leadership, ethics, anger, strategy, all are fair game. And while I can't promise to have all the answers, I'm confident I can offer at least a new question and perspective, which in my world equals progress, and freedom. ;-) Registration is here.

Phew. I'm grateful for the unmistakeable ways to be of service, and to be on purpose. I look forward to our continued solidarity in the face of the world's re-wilding.
Deeper connections, leading when unsure, doing the right thing…all are worth the effort and I'm so glad we're on the road to opening our eyes together.
"Wake up, Neo." - Trinity, The Matrix
"Discipline is obedience to awareness." - C Jung
"No matter how far you've gone on the wrong path, turn back." - Turkish proverb