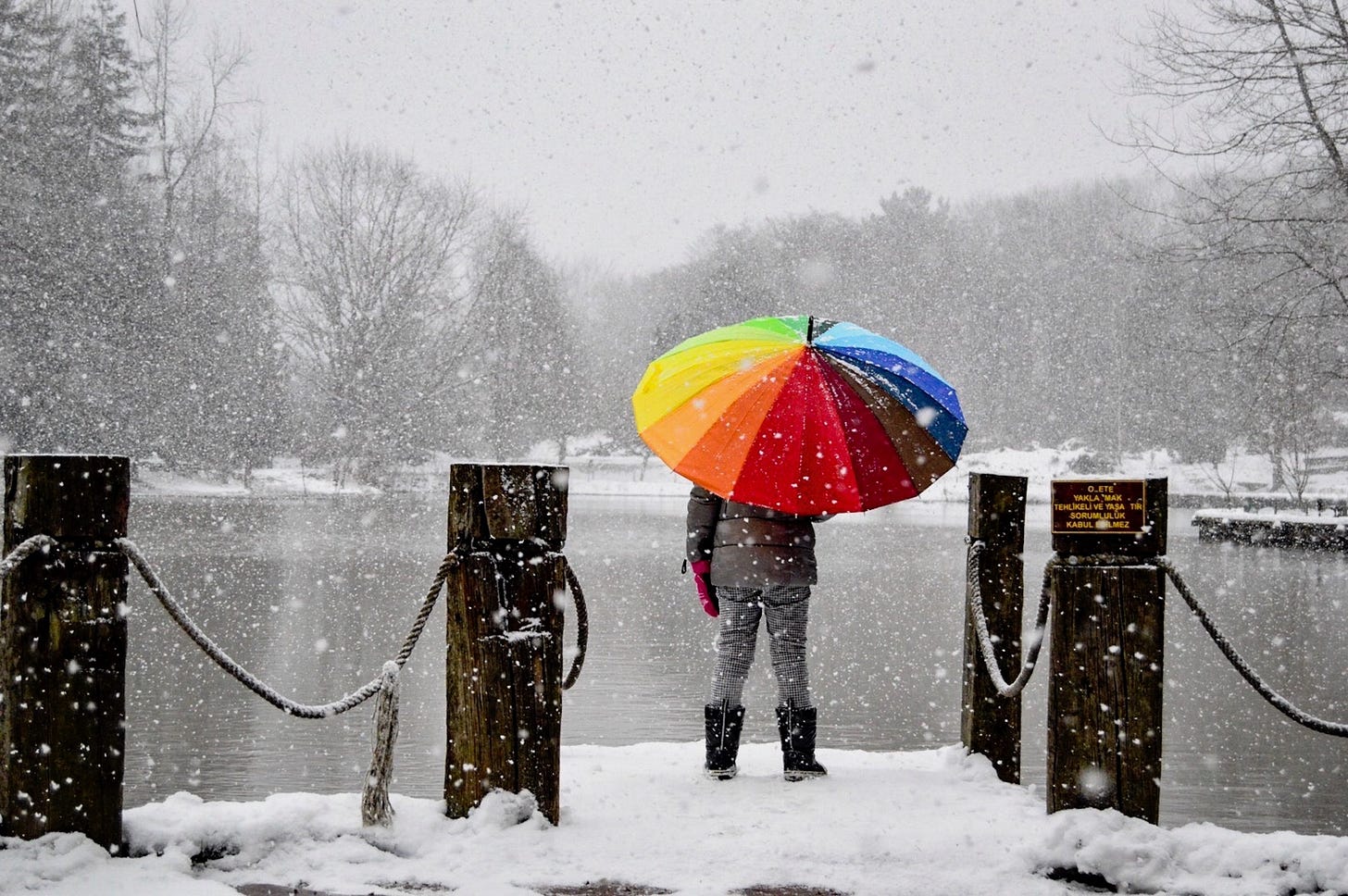 Content warning: death of a parent

Recently, in the midst of 2020 (you know what I mean by that) my Dad died. Yes, this is the Dad I wrote about quite pointedly, our father-daughter relationship informing much of my writing at We Can Stop Being Abusive. His death was unexpected and very fast, the result of a stroke. My mom, brothers, a small clutch of other family and I were able to bury him in Vancouver on October 3rd in a service that included Taiwanese, Mandarin, a little English, and… masks and sanitiser or gloves for everyone.
With those practical duties now mostly handled, I'm sitting down to engage with where I'm at. It's a mishmash of sensations that can be summarised with two words: tenderness and turbulence.
I'm noticing that "Tenderness and Turbulence" seems to apply not just to me, but the greater zeitgeist, eh?
Do those words capture things for you a little, I wonder, as you navigate all that's in your life? It doesn't need to involve a death in the family, though increasingly it might.

This disjointed sensation makes me think of the 'everything' 'junk' drawer that many of us have, where we go when we're looking for something we really need, but can't find. Life feels disorganized. We're living in the junk drawer with a feeling of missing something and not finding it, not knowing what we'll happen upon at any given moment. To my coach's ears, the conversation sounds a little like so:
"Where am I right now, again? Where are we collectively this week?? Oh right, I should focus on what wants wants to be next, and getting there. What wants to be next again?" And "Whew, if I let myself feel it, tired is the - boring - word for it. That's it. And yes, that's right. I am TIRED of being tired of all this. And/but…
Let me put one foot in front of the other somehow, some way…
My heart has softened so much this year as I look to make my life as useful as possible, and help others do the same. As coaches and teachers, writers and leaders, we're tending ourselves so we can better tend to others, and I'm so moved by that. I like to say, "If Martians were to land on Earth, I'd like to be proud of us" and I can feel us pulling together in this effort. The effort is worth it, I remind myself, for its own sake.
In memory of my Dad, who was the youngest of 9 children who lived through earthquakes, the looming threat of going to war, being motherless during militarily occupied Taiwan, and even serving time in prison in South America a few years ago… all in a quest to live life to the fullest, I offer the following:
How to Do Life and Work When Things are Tender and Turbulent
Don't hold on too tight.

Rigidity is the most damaging energetic here and can cause real harm. Check in on all areas of your life and be like an earthquake-proof building, strong but loose. It's possible to believe something, to be focused and goal-oriented, to go for the 'gold,' but hold things loosely, lest your fingers swell up like sausages when something changes, or you're forced to let go. Hold things with a whole heart, but softly.

Slow down.

Better to get to the corner store and back with steady steps than race for somewhere farther and never make it, or do more hard than good. (That's a straightforward ROI calculation, actually.) Things goes for work projects too. Where is the project that is the corner store that would be fabulous to achieve with steady certainty? For this, I must quote Bayo Akomolafe "the times are urgent, we must slow down." If for no other reason, think about this - how has rushing helped society to date? Are the best things you enjoy most in your life consistently fast? Hint: I woudn't want to listen to the Flight of the Bumblebees for very long, would you?

Aggressively rest.

We talk about our strengths a lot in the personal development world. We may even think of skills like coaching, speaking, or writing as assets. Scrappiness, being the underdog, even being beautiful or photogenic can be described as a capital asset. (Yes, these are our privileges too.) But Dad had a talent that taught me the raw value of being aggressive about rest. In a turbulent time, who will in fact, be able to persist over the long haul we're on? Zero doubt about this one, it will be the aggressively rested among us. As the Nap Ministry puts it: "Rest is a form of resistance because it pushes back on capitalism and white supremacy."

Look beyond yes and no.

I find this one deeply medicinal, but also sometimes the hardest to swallow. Thinking it might help, I want to write a parable about three kids named "Yes," "No" and "Maybe." They go on adventures together and things go predictably when they follow the lead of "Yes" and "No." Soon, they get bored of this and turn to "Maybe" whose favourite question is "what if we do something we've never thought of before?" In the most impossible problems and circumstances you're in, what happens when you peek beyond yes or no to maybe?

Do fewer things, just do them better.

What support would make it possible for you to scrape the barnacles off the bottom of the proverbial 2020 ship - address feelings, grieve, look gently at the losses, and open your heart to streamlining your ideas and commitments? With 2021 looking like it will be quite similar to 2020 in some ways, how can "fewer things, but better" serve you?
What else would you add to this list of 'How to do life when things are Tender and Turbulent?' Hit reply, or comment at the blog.
---
For Your Listening Pleasure - 3 Podcast Episodes and a Final Few Words…
For those of you who enjoy audio resources, I'm in several new podcast episodes that are available now, thanks to the work of dear, devoted people I'm grateful to know. Enjoy, and do please engage with each of these hosts however you most like to do that. **They are among my most respected colleagues and friends.**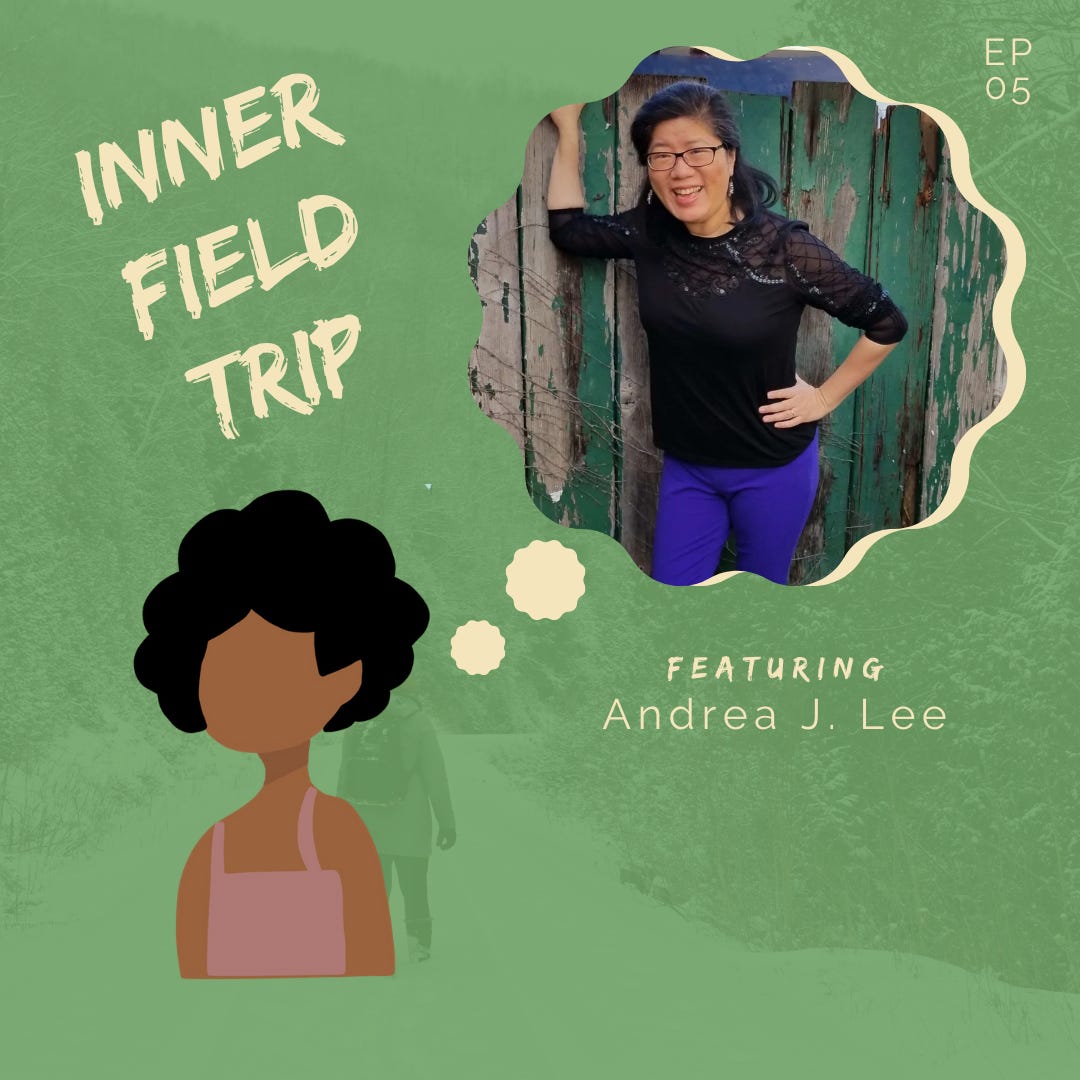 The Inner Field Trip podcast with host Leesa Renee Hall helps highly sensitive people and deep feelers explore unconscious biases so they protect their energy, stand on the side of justice, and become better ancestors.

EPISODE 05: HOW TO USE QUESTIONS TO NAVIGATE ABUSE, ANGER, AND ACTIVISM
In answer to Leesa's line of inquiry, in this episode I speak to my cultural heritage as a Canadian-born Taiwanese woman, and how that shows up in my work. We also talk about questions and where they come from! Leesa is a leader of a fabulous community on Patreon which I'm a member of. We are so blessed she is podcasting again! #StumbleBravely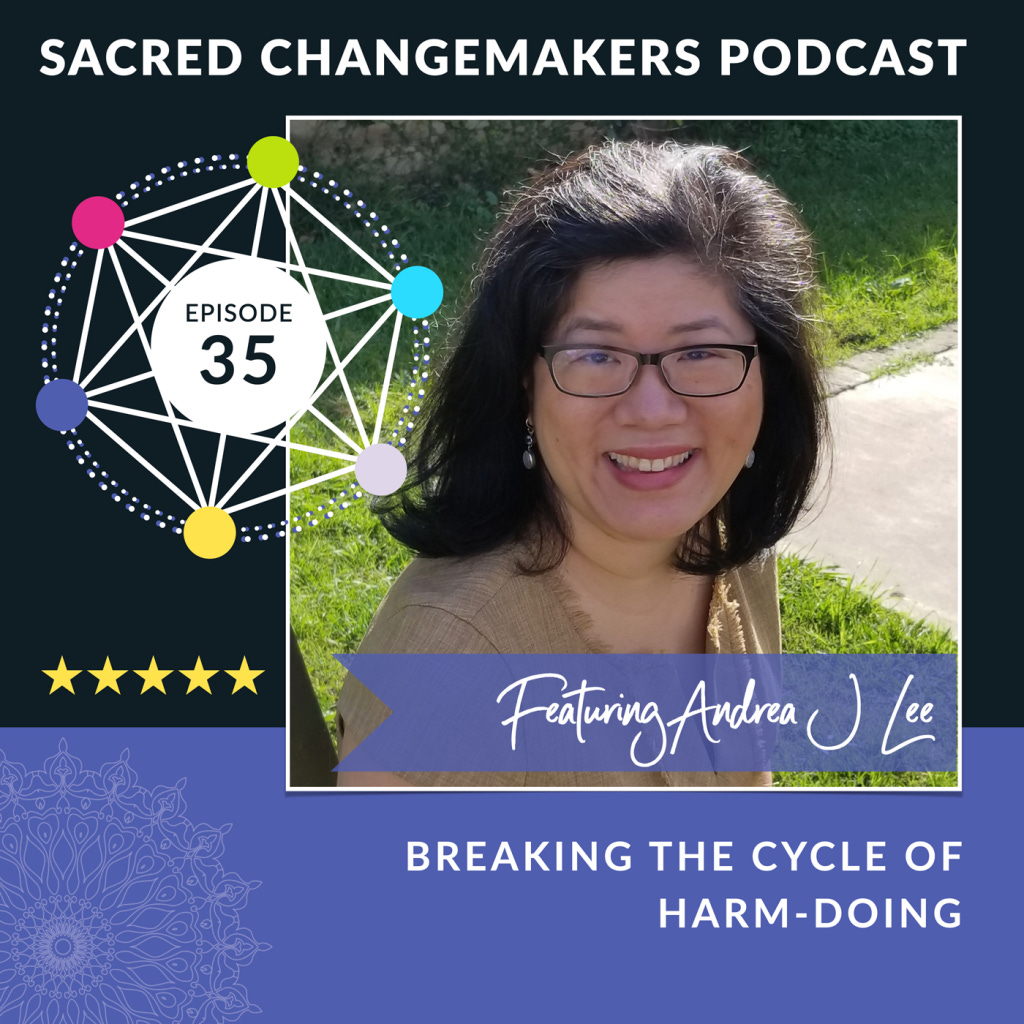 The Sacred Changemakers podcast with Jayne Warrilow takes a stand for change, but not just any change, lasting change that makes a personal, professional and social impact. It elevates deep-dive conversations that tackle the challenging issues of our times.

EPISODE 35: BREAKING THE CYCLE OF HARM-DOING

In this episode, I talk about stopping harmful behaviour specifically for everyday people in their everyday lives. If you've ever considered how we inadvertently harm each other and not even realize it, or are interested in more insight into my personal journey, this episode will be of interest. Thank you Jayne for all you do to help leaders!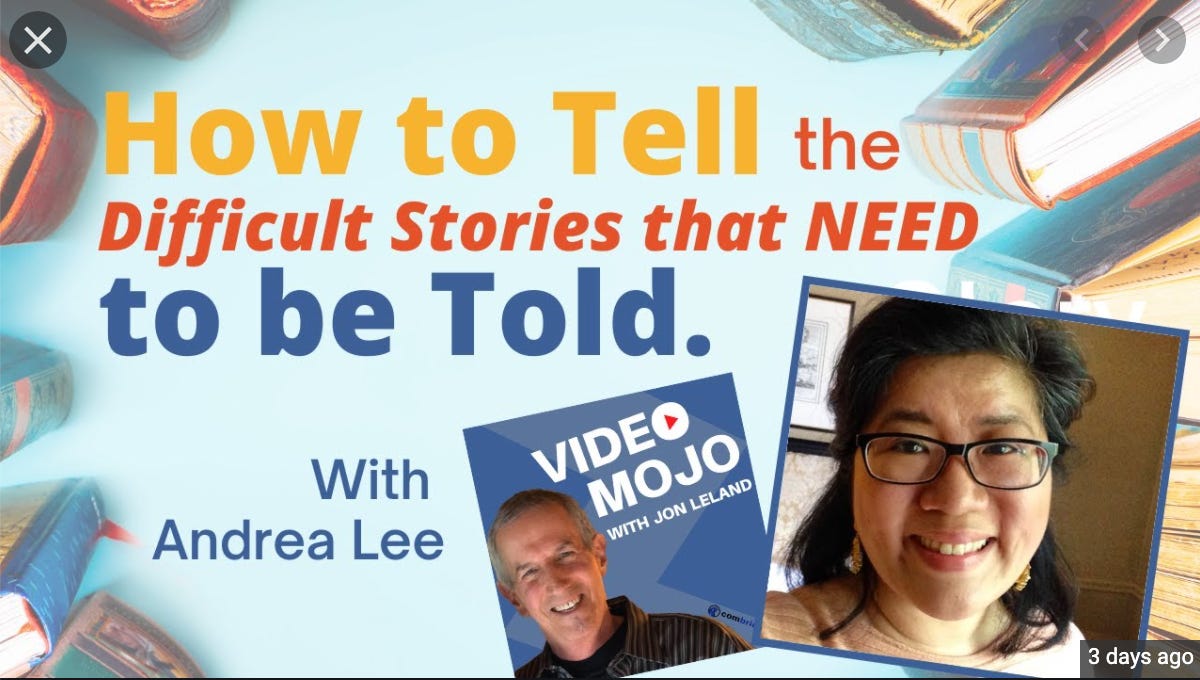 Video Mojo is a webshow hosted by digital marketing and relationship business leader Jon Leland. As you'd expect this is available via video and, as a podcast, and was originally broadcast on FB live and Youtube, simultaneously. It's an exemplary production that demonstrates highly-leveraged technology…but for the good guys. Note: the fuzzy video on my side is my responsibility alone!

EPISODE THEME: HOW TO TELL THE DIFFICULT STORIES THAT NEED TO BE TOLD

In this episode, Jon has me hone in on 'difficult' stories and why those versus the simple easy stories we've been telling forever, including baby steps to get started. If you're looking for customized digital marketing help and your business is beyond its initial growth phase, maybe a webshow like this would be strategic? Get thee to Jon to explore further. #videomojo

And that's it for new content for now. I'm so lucky that these pieces have been produced while taking time to be with family the last 60 days. I'm honoured.
A Final Few Words…

On a practical note, I want to reflect that with Dad passing so fresh, my mind is much more settled around ideas. I want to do fewer things, and do them exceptionally.
I have a book proposal, 'How to Stop Hurting the People You Love," that I'm thrilled about, out to an all-time favourite publisher.
I will be releasing the 10-week version of 'Coaching the Uncoachable" a hands-on coach-the-coach program for seasoned coaches as my main new project for 2021.
And I will be upping my game with private clients, both the exceptional existing ones (you know who you are!) and through a new offering on Strategy, Leadership and Outcomes for executives.

More info here at the updated website.
"I think of coaching sessions as similar to creating music. There is rhythm, momentum, emotion. Chorus, verse, volume, pitch, teamwork, and attack. Melodies, harmonies, quiet, and in the end, something beautiful has changed. Something timeless and new has been created that lasts." — Andrea J. Lee
Without a doubt, there is still a lot of change ahead.
In this moment we're in, we each of us are contributing to building something new, deeply repotting our society, our lives, and what we focus on. Like a life-giving plant being moved to a new pot, there is a lot to this, including upheaval, profound loss and new possibilities.

Thank you for being someone who invests in steadily walking this journey with other humans, including me, and my long emails. If there's one thing I know, it's that one thing at a time together, we can make the impossible possible, whatever that "impossible" might be. We've done it before and we'll do it again. #steadily #thatisall

P.S. I've been asked where to leave gifts in memory of my Dad. Thank you so much. <3 It isn't necessary, however there is a food security project in New York City that is run by a trusted superhero friend and her crew, which would be very meaningful to support to any degree. My Dad was once one of the people this organization supports, scavenging and scrapping with his 8 siblings for food - I'm grateful he made it so I could have today.
P.P.S. From my post about my Dad: Love fiercely and give it your all.
Rest now, Dad.

You tried it all. You held nothing back. You got in all the different kinds of trouble and you never gave up. You used it all up. I respect that.

Thank you. I love you. Rest now.

RIP George Heng Loung Lee July 25, 1938 - September 9, 2020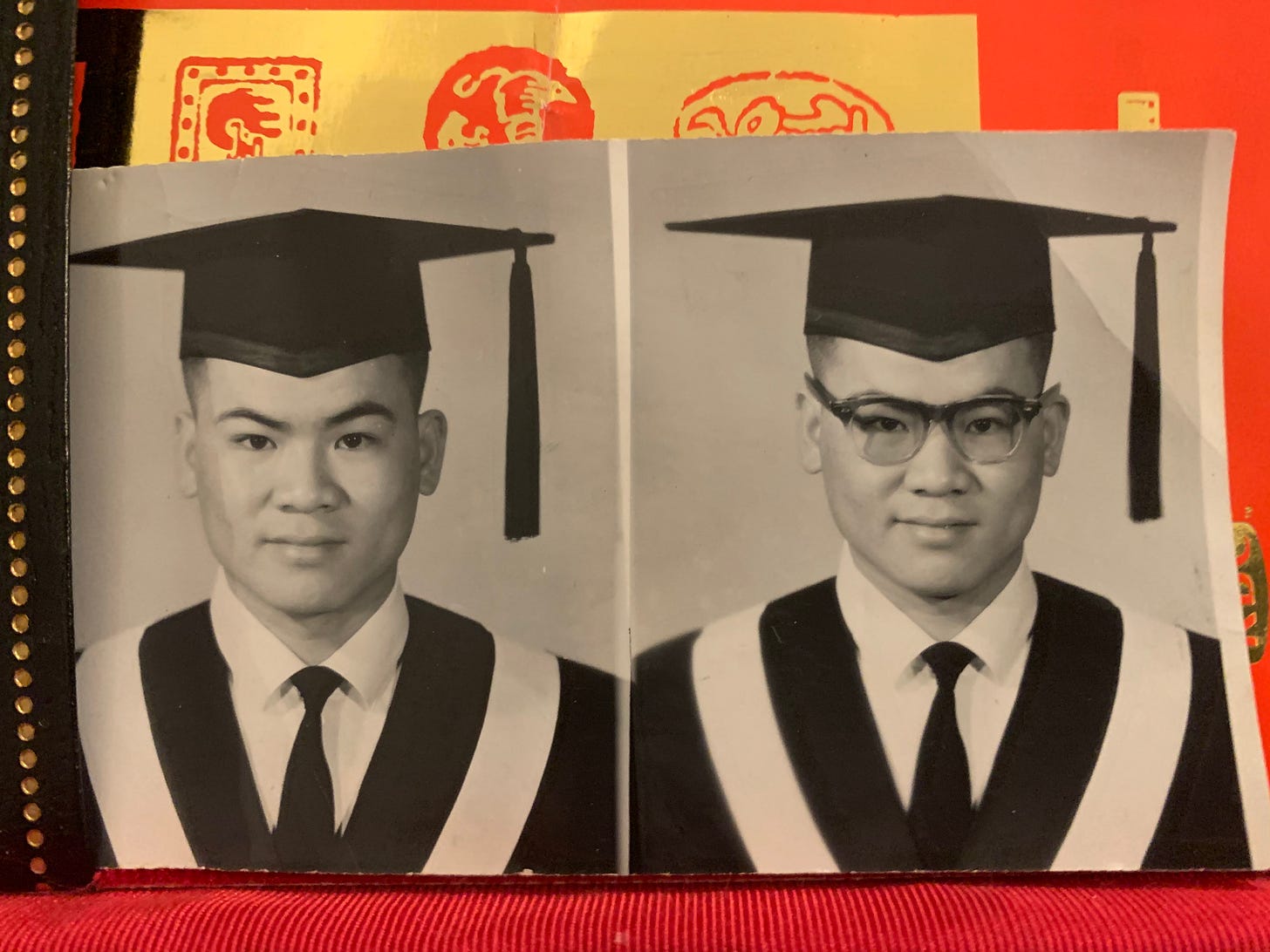 "Peace is for the strong. War is for the weak." - Stella Ghervais.


Top Photo by Anastasiya Yilmaz on Unsplash